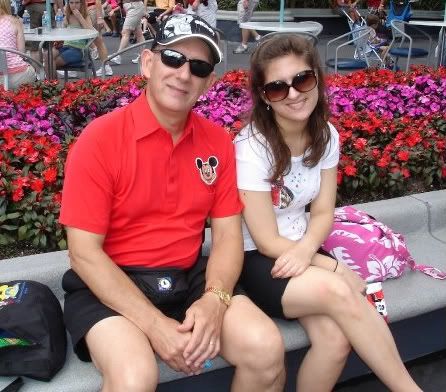 Today is a pretty signifcant day for my family.
Two years ago, my parents and I booked a trip to our favorite vacation destination for my spring break. That trip really stands out in my mind. We stayed at Port Orleans French Quarter, which is probably my favorite resort. It was my senior year, so they bought me an adorable graduation Mickey hat - which happened to come in my school colors. We went to the incredible Pirate and Princess Party at the Magic Kingdom. We had fun riding the Mad Tea Party and laughing like fools, and stuffed ourselves with Mickey Premium bars. It was a carefree, amazing week. Mostly.
See, Daddy and I tease my mom because she walks so fast throughout the park. She's like a seven-year-old that just consumed ten Pixi Stix in a row. It's no small feat to keep up with her when she's on a mission. "Let's go grab FastPasses for Expedition Everest!" she'll cry, that familiar manic glint in her eyes, before taking off for Asia, with Daddy and me panting as we race through Discovery Island.
This trip, Daddy was having more than the usual trouble keeping up with her. He complained of small pains in his chest. We were concerned, but figured it was time for stints to be placed in his arteries. We know a lot of middle-aged guys who have had stints done. I mean, it's a fact that if you live in Southern Louisiana, you're not going to eat right all the time, so this is rather common. So we thought, Ok, he'll schedule an appointment when we get home to get his heart checked out.
He went to the doctor the next Wednesday, and not a moment too soon. The doc said he had 90,70, and 50% blockages in the major arteries in his heart. Very little blood was passing through, and his heart was under a lot of stress. Basically, he was a walking bomb - he could've had a devastating heart attack if they hadn't caught it right then. We were shocked when his doc had him immediately transferred to a hospital in Baton Rouge: they were operating the next day, triple bypass.
Those few days were kind of a blur. I was in school, I was graduating the next month, I was to wear the dress of my dreams to my senior prom that weekend - and suddenly my dad was in this terrible, life-threatening situation. I didn't go to school on Thursday, but sat around a waiting room, staring at magazines without taking in the words. I remember when they took my dad into surgery: my mom and I clutched each other and cried.
What if he died?
I couldn't help wondering.
What if he doesn't get to see me graduate, or go to LSU, or get married and have kids?
We'd been so happy at Disney World not even a week ago, but it felt like years since I laughed with my dad in a spinning teacup.
He was okay when he came out of surgery, but it was a long and difficult recovery process. I think that was the hardest part for me. My dad, who'd always been strong and capable of anything, could not lift anything heavy or exert himself for several weeks. I did go to the prom, but the traditional ritual of parents taking pictures beforehand was done in a small, crowded hospital room so my dad could see my in my Belle dress. It was a long road to recovery, but at least he was okay. He got to see me graduate and go to LSU, and I pray to God that he'll be there for major events in my life in the future.
I thank God every day for my dad, especially after April 10, 2008. He's such a great person. He's quiet in front of people he doesn't know, but he says the funniest things at home. He hates blueberries and is the pickiest eater, but is satisfied with a simple Mickey bar for dessert at WDW. He's a NASCAR freak, a Disney fan, an American history buff, a car mechanic, an awesome husband to my mom, and an amazing dad to me. Like any traumatic event, I think his ordeal brought the three of us closer together. He can't do all the things he used to, but he's still strong. His current project is converting our patio to a sunroom.
I'm looking forward to racing around Disneyland with him and my mom in May.